Mr Knightley's Diary
Hardback cover (left) and paperback cover (right)
UK and Commonwealth paperback cover (below)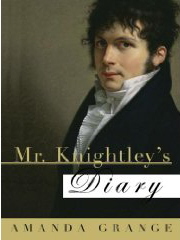 REVIEWS
"Ms. Grange manages the tricky balancing act of satisfying the reader and remaining respectful of Jane Austenís original at the same time, and like Miss Woodhouse herself, we are given the privilege of falling for Mr. Knightley all over again." - Austenblog
"A lighthearted and sparkling rendition of the classic love story." - Historical Novels Review
"(Mr Knightley's) first-person commentary puts him at the center of the action in this charming reframing of Jane Austen's Emma, and knowing the outcome of the story doesn't lessen the romantic tension and expectation for the reader. Grange (Mr. Darcy's Diary) hits the Regency language and tone on the head." - Library Journal
"Readers familiar with EMMA should enjoy revisiting the county and its people and welcome the expansion of Mr. Knightley's role. Others will find an entertaining introduction to a classic." - Jane Bowers, Romance Reviews Today.
"Mr Knightley's Diary . . . sticks close to the plot of Austen's Emma, mixing his initially censorious view of Miss Woodhouse with his notes on managing the hereditary seat at Donwell Abbey and affectionate asides on his collection of young nieces and nephews." - Washington Post

Large Print: available from BBC books by clicking here

Extract
Tuesday February 23rd
The weather was worse this evening, and it was with difficulty that I managed to walk to Hartfield after dinner, but I did not want to neglect my friends. I found Emma and her father sitting with Harriet. Harriet's presence was welcome as it meant that Emma and I could play backgammon without worrying that her father would be bored, for Harriet could read him Isabella's latest letter again: little George had a cold, the baby was growing rapidly, and Henry was making good progress with his reading.
'I called on Miss Bates this morning,' Emma said.
'And you are wanting me to praise you for it,' I remarked.
'No. If I want flattery, I know I must look elsewhere!'
We began to play.
'And did you find Miss Fairfax at home?' I asked her.
'I did. She had just returned from the post office. If I had called half an hour sooner I would not have seen her.'
'And did you still find her reserved?'
'Yes. I found it very difficult to have a conversation with her. She listened politely to everything I had to say, and she answered every question I put to her, but she volunteered nothing.'
'Perhaps she had nothing to volunteer.'
'Nothing to volunteer, when she has been away from us for two years? What of all her news? Talk of her friend and her friend's wedding? Of the Campbells, and her life with them? Of her time at Weymouth, and her adventure on the boat? I am sure that could occupy half an hour at least.'
'I thought she had told you something of her friend's wedding a few days ago?'
'She did, but only when I asked her outright for information.'
There was something in her tone which gave me pause.
'What mischief are you brewing now?' I asked.
She looked at me innocently.
'You are a very suspicious man, Mr Knightley. What makes you think I am brewing mischief?'
'Experience,' I remarked.
'It is sometimes very inconvenient to talk to someone I have known all my life,' she said playfully. 'It is also very unfair. It gives you an advantage. You know all about my childhood freaks, and I know nothing about yours.'
'That is because I never had any!' I returned.
She laughed.
'What is it, my dear?' asked her father, looking up from the letter.
'Mr Knightley says he had no childhood freaks.'
'I am sure he did not,' said her father. 'I have known Mr Knightley all his life, and he has never suffered from freaks. A better man it would be hard to find. Why, even as a boy he was very well mannered. I remember him saying to me, when I had had a cold: "I am sorry to hear you have not been well. I hope you are recovered?" and he was only five years old.'
I did not remember this evidence of my childhood virtues, but I said: 'There you are,' to Emma nonetheless.
'I believe I will ask John about you and find out the truth, the next time I see him,' she returned. 'I cannot believe you led a blameless childhood. I am sure you had your share of mischief.'
'As he is unlikely to visit us before the summer, I am not afraid.'
'Summer will come,' she said, 'and I will be waiting!'
* * *
This second extract is taken from near the end of the book, after the picnic at Box Hill, when Mr Knightley has retreated to town, thinking that Emma is in love with Frank Churchill.
Saturday July 3rd
I had lunch at my club, with Routledge. As we finished our meal, I found him watching me curiously.
'Well?' he said.
'Well?' I asked.
'Out with it.'
'Out with what?'
'Whatever it is that is bothering you,' he said. 'It must be something important, for you have not listened to a word I have said. You have answered me in an abstracted manner, and nothing you have said has made sense.'
'Nothing is bothering me,' I answered testily.
'You might as well make up your mind to tell me, because I will hound you until you do. I am tired of looking at your long face and hearing your sighs! It is not like you.'
'I do not sigh!' I protested.
'I distinctly heard you as you ate your beef. You sighed.'
I gave a deep sigh - then was angry with myself.
'Hah!' said Routledge. 'There you are! It is as I said! You sighed. Well?'
I could not hide it from him any longer, nor did I wish to, for I needed to unburden myself.
'You were right.' I said.
'About?'
'About Emma. Everything you said was true. I am in love with her. I cannot think why I did not see it sooner. I have been blind. She is the very woman for me.'
'At last! I have been waiting for you to see it for months. Well, when are you going to marry her?'
'Never. I have missed my chance. She is going to marry Frank Churchill.'
'Is she indeed?' he asked in surprise. 'What makes you think so?'
'There is an understanding between them. From things she has said - things she has done - I asked her if she knew his mind on a certain subject, and she said she was convinced of it. In short, I thought he seemed to be casting glances at Jane Fairfax, some time ago, but Emma said she was sure of him. It was an intimate matter, one that would not have been spoken of if there had not been an engagement.'
'And so they have announced their betrothal.'
'I am expecting it any day, although it may be delayed as Mrs Churchill has just died.'
'Then, if it is as certain as you say, you had better marry Jane Fairfax instead.'
'I have already thought about it, but I cannot do it.'
'Why not? She is an attractive young woman, well bred, agreeable and in need of a home.'
'I cannot marry her for those reasons. Befriend her, help her - yes, But marry her? No.'
'Then you had best see to your repairs at the Abbey, for it seems your nephew will inherit it, after all.'
'It seems so.' I remembered that he sometimes saw John, and said: 'You will say nothing of this to John? He does not know that I am in love with Emma. I can stand your rough concern, but if my brother knew, he would tell Isabella, and I can not stand Isabella's sympathy.'
'I understand. I will say nothing to anyone. You may place your trust in me.'
'Thank you.'
'What do you intend to do now?' he asked me.
'Do? I will do what I have always done. Tend my estate, dine with my friends, play whist, look after the parish, and visit my brother.'
'At least you will not have to see Emma, once she is married,' said Routledge. 'She will remove to Yorkshire, and not be reminding you of what you have lost.'
'Small comfort,' I said. 'I do not know which is harder to bear, the thought of seeing Emma as the wife of another man, or the thought of never seeing her at all. I cannot imagine a life with her. What will it be like to go to Hartfield and find that she is not there? To dine with the Westons and see that her chair is empty? To go to church and see that she is not in her pew? To walk round Highbury with never a chance of meeting her?'
'You will adjust,' he said.
'I suppose so,' I said, but I did not believe it.
I was in low spirits when I returned to Brunswick Place. The boys wanted to play, but I put them off, saying: 'Not now. I am tired.'
I returned to my room and took up my quill. And now here I am, dreading another sleepless night and another empty day.

If you enjoyed Mr Knightley's Diary, you might like my other Jane Austen retellings. You can find out more by clicking on the covers:
You might also like my Regency romances, available in paperback. Click on the covers for more information.