Mr Knightley's Diary
Hardback cover (left) and paperback cover (right)
UK and Commonwealth paperback cover (below)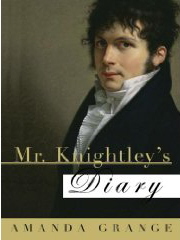 REVIEWS
"Ms. Grange manages the tricky balancing act of satisfying the reader and remaining respectful of Jane Austenís original at the same time, and like Miss Woodhouse herself, we are given the privilege of falling for Mr. Knightley all over again." - Austenblog
"A lighthearted and sparkling rendition of the classic love story." - Historical Novels Review
"(Mr Knightley's) first-person commentary puts him at the center of the action in this charming reframing of Jane Austen's Emma, and knowing the outcome of the story doesn't lessen the romantic tension and expectation for the reader. Grange (Mr. Darcy's Diary) hits the Regency language and tone on the head." - Library Journal
"Readers familiar with EMMA should enjoy revisiting the county and its people and welcome the expansion of Mr. Knightley's role. Others will find an entertaining introduction to a classic." - Jane Bowers, Romance Reviews Today.
"
Mr Knightley's Diary
. . . sticks close to the plot of Austen's Emma, mixing his initially censorious view of Miss Woodhouse with his notes on managing the hereditary seat at Donwell Abbey and affectionate asides on his collection of young nieces and nephews." - Washington Post

Extract
Tuesday February 23rd
The weather was worse this evening, and it was with difficulty that I managed to walk to Hartfield after dinner, but I did not want to neglect my friends. I found Emma and her father sitting with Harriet. Harriet's presence was welcome as it meant that Emma and I could play backgammon without worrying that her father would be bored, for Harriet could read him Isabella's latest letter again: little George had a cold, the baby was growing rapidly, and Henry was making good progress with his reading.
'I called on Miss Bates this morning,' Emma said.
'And you are wanting me to praise you for it,' I remarked.
'No. If I want flattery, I know I must look elsewhere!'
We began to play.
'And did you find Miss Fairfax at home?' I asked her.
'I did. She had just returned from the post office. If I had called half an hour sooner I would not have seen her.'
'And did you still find her reserved?'
Yes. I found it very difficult to have a conversation with her. She listened politely to everything I had to say, and she answered every question I put to her, but she volunteered nothing.'
'Perhaps she had nothing to volunteer.'
'Nothing to volunteer, when she has been away from us for two years? What of all her news? Talk of her friend and her friend's wedding? Of the Campbells, and her life with them? Of her time at Weymouth, and her adventure on the boat? I am sure that could occupy half an hour at least.'
'I thought she had told you something of her friend's wedding a few days ago?'
'She did, but only when I asked her outright for information.'
There was something in her tone which gave me pause.
'What mischief are you brewing now?' I asked.
She looked at me innocently.
'You are a very suspicious man, Mr Knightley. What makes you think I am brewing mischief?'
'Experience,' I remarked.
'It is sometimes very inconvenient to talk to someone I have known all my life,' she said playfully. 'It is also very unfair. It gives you an advantage. You know all about my childhood freaks, and I know nothing about yours.'
'That is because I never had any!' I returned.
She laughed.
'What is it, my dear?' asked her father, looking up from the letter.
'Mr Knightley says he had no childhood freaks.'
'I am sure he did not,' said her father. 'I have known Mr Knightley all his life, and he has never suffered from freaks. A better man it would be hard to find. Why, even as a boy he was very well mannered. I remember him saying to me, when I had had a cold: "I am sorry to hear you have not been well. I hope you are recovered?" and he was only five years old.'
I did not remember this evidence of my childhood virtues, but I said: 'There you are,' to Emma nonetheless.
'I believe I will ask John about you and find out the truth, the next time I see him,' she returned. 'I cannot believe you led a blameless childhood. I am sure you had your share of mischief.'